Blog Archives
Common Thread –
Yesterday I told my therapist three distinct experiences that have happened to me since our last appointment. I do my best to remember or jot down events or emotional moments I encounter and relay them to her. I talk about how I felt, why I think I felt it, why I did something, what I thought would be the outcome, what happened to me and the result. I tell her these things because many times I'm not able to see the big picture because I'm so close to the events and experiences.
When I finished telling her my three stories she then asked a series of questions that gave me the ability to look at each one from a different point of view. I thought they were three separate, non-related moments but she was able to see a common thread and we discussed how and why I reacted in a certain way and the possible reasons they imprinted on me. It was an; "Aha!" moment that I was unable to see without the benefit of a pair of unbiased, professionally trained, eyes.
I don't love therapy. I tolerate it. I know it's an invaluable part of my treatment plan for chronic severe depression and a severe anxiety disorder. There are times I walk out wondering what was accomplished and there are; "Aha!" days. I don't always like what I am shown or discover but I hope that every; "Aha!" helps my journey on this path called; "my life" be easier and worth the struggle.
blessings,
@BrianLoging
For most posts, reflections and other writings, please visit; http://www.thewannabesaint.com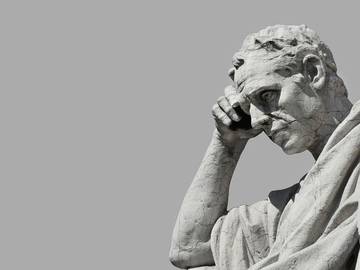 To Think –
I am currently teaching a men's class on Wednesday evenings in a city that's an hour away from home. This means on Wednesday afternoon and evening I have a bit of time on my hands. I spent most of it yesterday talking with fathers on the phone. A couple of hours to myself gives me time to think about my day, week, schedule and the materials I will be teaching and how the class went on the way back.
Thinking is a balancing act for someone like me with a Severe Anxiety Disorder. If I'm not careful thinking can turn to rumination and going over and over a situation, interaction, occasion in my mind. I described it one time to my therapist; "My over-thinking is like bubblegum. You chew on it and for a while, you get something tasty. Soon, however, all the flavor is gone and you're chewing a piece of wet rubber." I try to be aware of my thoughts and if I'm fixating on a particular subject. When I catch myself I turn on the radio, a podcast or music.
Wisdom tells us; "We cannot stop thoughts from entering the door of our minds
but we do not have to serve them tea."
blessings,
@BrianLoging (Twitter)
thewannabesaint.com
Enemy Within –
I had a meeting with my talk therapist yesterday. It went well. She is professional, a good listener and has a way of pointing out things I miss in life experiences. We were talking about a certain subject, one I struggle with mightily at times, and asked a question that made me think in a completely different way. She didn't say; "Think this way." Like a good therapist should do, she allowed me to look inside and find my way out of dark corners.
As someone with a Chronic Severe Depression disorder the battle with ruminating thoughts, anger, doubt, confusion, and fear cover my mind, emotions, and spirit like a wet blanket. Some days I can shake the blanket off of me, other days it's like a chill in my bones and I can't get warm. Therapy helps remind me that many of the feelings, and non-feelings, which come with depression may not be gotten rid of completely but a new thought, a burst of light, a letting go of some of the negative, can make room for hope and a willingness to continue the journey.
blessings,
@BrianLoging (Twitter)
thewannabesaint.com