Blog Archives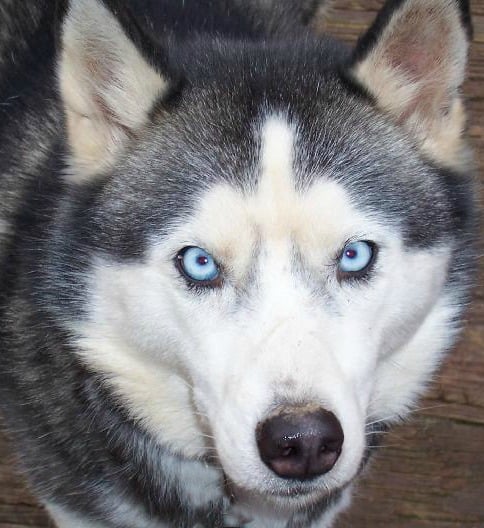 Are You There?
A couple of hours ago a storm blew into our area with winds and thunder but no rain, at least for us. I was on the couch with my earbuds in. This is why I didn't hear the storm or our Siberian Husky, Trooper, come into the living room and sit down right next to me and stare. Suddenly I had a feeling of being watched and I looked in his direction to find his face a few inches from mine. It startled me! "What are you doing?" When I heard the thunder I realized he was looking for comfort. I patted him on the head, scratched ears and told him it was; "okay." I guess he heard and understood because he went back to his favorite spot on the foyer floor and laid down. He's still asleep now.
In times of uncertainty, calamity, unsettledness, and fear, what we want, need to know if someone is there for us. As adult humans, we understand that a person's presence might not fix or solve the problem but it does remind us we are not abandoned. It is one of the deepest longings at the heart of existence; the assurance that on this journey call life, we don't walk alone.
blessings,
@BrianLoging (Twitter)
thewannabesaint.com
Out of Sight –
This past weekend I wrote about a tiny gray cat that has been hanging around the house. The last time I saw it was on Saturday. I had been putting food out for it hoping to convince it we meant no harm but unfortunately, the neighborhood dogs beat the kitten to the chow. It started raining yesterday afternoon and has been steady since then. Remnants of Hurricane Irma is giving us plenty of water and a bit of wind. My worry, however, is the kitten. Is it dry? Did a neighborhood dog get it? I haven't seen it since the weekend and I have no idea where it is or what happened to it. So, I wait and see. Hopefully, it's still hiding under the porch and will come out after the storm passes.
There are people in our lives like the kitten. A storm begins to batter them and they hide, afraid of its downpour and thunder. We long to help them, to show them kindness, to meet whatever needs we can if they would just come out of hiding. However, like the kitten, there are trust issues and perhaps they've been hurt before by people pretending to help or they're used to people taking not giving. What do we do? We wait. If they come out of hiding during the storm we can cover them with acts of kindness. If they wait until after this is fine also. Kindness and love have no expiration date.
blessings,
@BrianLoging (Twitter)
thewannabesaint.com
Soaking
It has rained most of the day. A wonderful, steady rain that has penetrated the ground and brought life-giving sustenance to planted flowers, gardens, trees and grass.
The sound of rain is good for my soul. I like to sit and listen to it, fall asleep to its melody, awaken to it glancing off the window panes, open the door to the front porch and watch it fall. I posted last week about our need for rain (80% https://thewannabesaint.com/2016/05/13/80/). We stayed dry for most of the past week but today brought relief.
There are times when I feel this way in my soul; dry, barren, in need. I long to have it quenched, to have it resuscitated after the world drains the life out of me with its meanness, hatefulness, division, death and misery. I look to the skies, I strain to hear the sound of thunder, my spirit aches for a drop of hope, love, kindness and grace.
Then, in its own time, it comes. The path leads me to a place of reprieve where the water of renewal washes over me, soaking into the deepest parts of me. I feel it course through me and once again am reminded why this is the way I have chosen.
blessings,
@BrianLoging (Twitter)
thewannabesaint.com