Blog Archives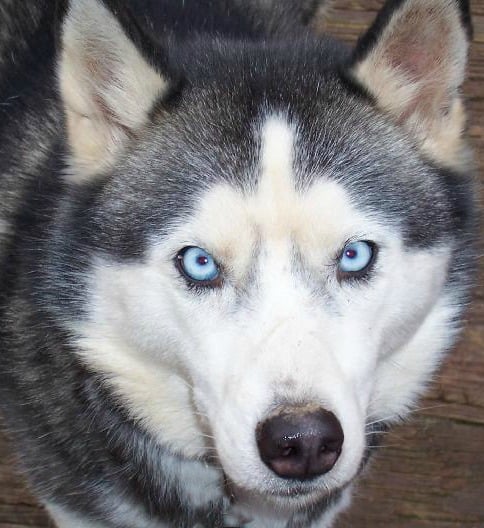 Are You There?
A couple of hours ago a storm blew into our area with winds and thunder but no rain, at least for us. I was on the couch with my earbuds in. This is why I didn't hear the storm or our Siberian Husky, Trooper, come into the living room and sit down right next to me and stare. Suddenly I had a feeling of being watched and I looked in his direction to find his face a few inches from mine. It startled me! "What are you doing?" When I heard the thunder I realized he was looking for comfort. I patted him on the head, scratched ears and told him it was; "okay." I guess he heard and understood because he went back to his favorite spot on the foyer floor and laid down. He's still asleep now.
In times of uncertainty, calamity, unsettledness, and fear, what we want, need to know if someone is there for us. As adult humans, we understand that a person's presence might not fix or solve the problem but it does remind us we are not abandoned. It is one of the deepest longings at the heart of existence; the assurance that on this journey call life, we don't walk alone.
blessings,
@BrianLoging (Twitter)
thewannabesaint.com
In Memory of –
This is a strange holiday for me. It's not strange in the sense that I don't understand it or think it necessary but strange because I did not serve in the armed services nor lost a loved one while in military service. I don't know what it's like to charge up a hill with my unit, share foxholes with people who I depend on for my life, find the courage to carry out orders that put my life and others in danger and know not everyone is coming back from the mission. I don't know what it is to get a knock on my door, a phone call, by servicemen or women to inform me a loved is not returning home. I can't imagine the pain, heartache, loss, or pride that comes with Memorial Day.
I once served on a staff with a war veteran and we liked to talk politics, history, and war. He had seen action in the military while I sat in the safety of a university classroom. We'd have conversations about the justifications of war. I'd voice my opinion that Christians should follow Jesus' example and be pacifists, opposed to all violence and then he'd tell me when and why I was wrong. I didn't agree with everything he said about the military, nation-building, and protection but I was also humbled and silent as he spoke. I understood that he had served, put his life on the line for us to disagree and still be friends, still call ourselves by the same name; Americans.
"The brave men, living and dead, who struggled here, have consecrated it, far above our poor power to add or detract. The world will little note, nor long remember what we say here, but it can never forget what they did here. It is for us the living, rather, to be dedicated here to the unfinished work which they who fought here have thus far so nobly advanced. It is rather for us to be here dedicated to the great task remaining before us — that from these honored dead we take increased devotion to that cause for which they gave the last full measure of devotion — that we here highly resolve that these dead shall not have died in vain — that this nation, under God, shall have a new birth of freedom — and that government of the people, by the people, for the people, shall not perish from the earth."
#AbrahamLincoln #GettysburgAdress
Blessings & Thank you,
@BrianLoging (Twitter)
thewannabesaint.com