Blog Archives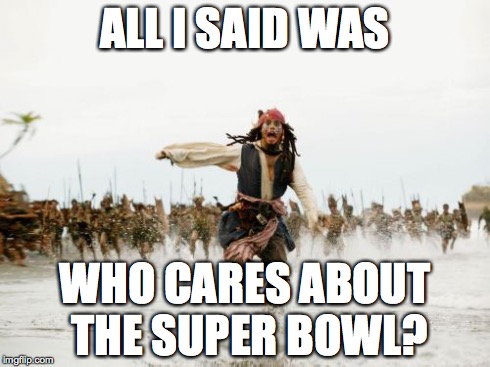 Who Cares?
This morning, in worship service, the pastor asked; "Who's rooting for the Philadelphia Eagles tonight? Who's going for the New England Patriots? Who doesn't care? Who didn't know the Superbowl was being played today?" There were hands and voices raised for each question.
Around 120 million people will watch the Superbowl tonight. That's over a third of the population of this country which is roughly 323 million. Amazing to me that we can watch a football game together but can't seem to unite over much else. It's also a surprise the 2/3 of America doesn't care about the game at all!
I will be rooting for the Philadelphia Eagles. I don't have anything against the Patriots they've just won it so many times I think it would be nice to give it to someone else for a change. The coverage for the big game started early this morning. The network broadcasting the Superbowl had a great interview with a Patriot's receiver, his wife, and children. It was a reminder that individual people, with unique stories, make up the teams.
It's a shame we don't remember that when we are attacking others for their political, cultural and religious opinions and beliefs. We cast a large net over those who don't think like us and label them; "bad" or "good" according to our own fallible judgments.
Maybe, if we could see the individual, listen to their story, discover we're all trying to make it the best we know how, we would realize when we fight all of us lose.
blessings,
@BrianLoging (Twitter)
thewannabesaint.com
Paradox –
"par·a·dox" –perəˌdäks – a situation, person, or thing that combines contradictory features or qualities.
I listened to a speaker today talk about his father who was a Jewish prisoner in a Nazi concentration camp during World War II. He talked about how his father and a German guard became friends over their interest in fishing.
One day the guard told him he was having troubles with his bowels and to go to the bathroom immediately. The speaker's father was confused but listened, went to the bathroom and came out several minutes later to find all the other Jewish prisoners had been taken to one of the notorious gas chambers the Germans used to kill millions of Jewish people. His friend, the guard, upon seeing him said; "You are the only Jew left. You should leave. The speaker's father walked out of the camp and went back to his home. "This is a paradox," said the speaker. The German guard knew the other Jewish people, human beings, placed on the train were going to die but still chose to save his friend.
Human beings are walking, talking, breathing, skin encased paradoxes. We are tough to figure out. We do what we don't want to do sometimes and don't do what we should. We take stands for things which don't really matter and shrink from the spotlight on the most important. Brennan Manning, one of my favorite authors, wrote; "I am an angel with an incredible capacity for beer." He was a priest, an oblate, and a recovering alcoholic.
We are all paradoxes and have that in common with one another. There are a plethora of beliefs, convictions, and certainties we hold that unite us and divide us. However, we are also, every one of us, human beings and this truth should overcome everything else.
blessings,
@BrianLoging (Twitter)
thewannabesaint.com