Blog Archives
Out of Outrage –
This week I read two articles about people being outraged. One was about the singer, Carrie Underwood, mentioning in a magazine that she was thirty-five years old and that she might be too old for her and her husband to have a lot of children. Fertility rights activists (who knew there was such a thing?) voiced their outrage on Twitter and in other online forums wondering how she could dare make such a statement. The other was about Dwayne "the Rock" Johnson going with his wife and daughter to an aquarium. People for the Ethical Treatment of Animals (PETA) and other animal/marine life defenders accused the "Rock" of supporting the harming and captivity of these underwater creatures. Let's not forget the daily outrage of Trump supporters and never Trump supporters over almost everything the president does or doesn't do.
Honestly, I need a break. I'm can't handle all the outrage, negativity, vitriol being spewed out on, it seems, everyone and everything. A woman muses about the difficulty of having a lot of children at her age and a dad spending the day with his family at an aquarium is controversial? It's as if we are looking for more reasons to be upset and ticked off at things. There are enough bad, evil, wrong, people and events in this world right now that should elicit legitimate outrage. We don't have to search for more.
If we are outraged at everything then we are outraged at nothing. It is nothing but angry voices screaming at each other and no one hears, nor cares to, what the other is saying. Instead of getting upset and angry about everything, choose what really matters to you and do something about it. If you make a list and a thirty-five-year-old country singer and a movie star are on the top of your list? Maybe you should think harder.
For more posts, reflections, poems, and other writings, please visit:
http://www.thewannabesaint.com
blessings,
@BrianLoging (Twitter)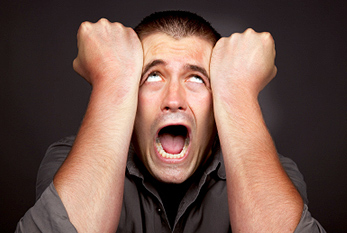 Frustration –
This morning I had an early appointment in Nashville to being a training. I put the address in my GPS app on my phone and off I went. It took me to the exact spot I'd entered into the phone but there was one problem, it was the wrong address. It took me a moment to realize my mistake until I literally got to the end of a dead-end road. Argh! I felt my frustration starting to grow. Instead of being 30 minutes early I was going to be late. I checked the address again, realized where I made my mistake, and set off in the right direction. Trying not to let my anxiety rise to a harmful level I turned on a three-lane road and stopped at a traffic light. I was in the far right lane, an SUV in the center lane, and a sports car in the left lane. I heard yelling and realized it was the SUV driver and the sports car driver having a road rage episode. I couldn't make out much of what they were saying and the words I could understand I don't dare repeat.
I sat there listening and watching the living embodiment of frustration out of control; testosterone, anger, and vitriol spewing out of both of them. It made me take stock of my mood and I realized it wasn't worth getting upset over my mistake and to let it go. I did, arrived at the training on time and am thankful for the lesson two men out of control could teach me.
blessings,
@BrianLoging (Twitter)
thewannabesaint.com
What Did You Hear?
Listening is an art form. It has to do with more than hearing words. It also hears silences, tones and the organizations of words into sentences and questions. Listening is wanting to hear what the other is saying and being willing for those words to impact, challenge, and change the listener. Listening is not, however, always agreeing with the other. You can listen and believe differently than what the other is saying but you listen out of respect.
A friend of mine a few weeks ago was telling me about a conversation he had with a dear friend and said; "It didn't go the way I planned!" His friend became upset with the conversation. I asked my friend; "Did you ask your friend what she had heard you say?" "No,' he replied, 'Why?" "Because,' I said, "She might have heard something completely different from what you were saying."
It's amazing but communicating with others is a combination of listening, speaking, processing, projecting, interpreting and understanding. When one of these is missing the connection with the other can be lost, disrupted and the moment can never be repeated.
Listening is a sacred act, do it well.
blessings,
@BrianLoging (Twitter)
thewannabesaint.com