Blog Archives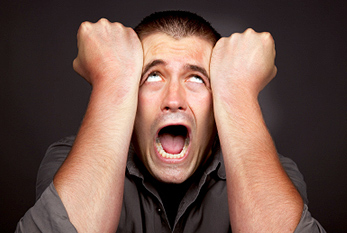 Frustration –
This morning I had an early appointment in Nashville to being a training. I put the address in my GPS app on my phone and off I went. It took me to the exact spot I'd entered into the phone but there was one problem, it was the wrong address. It took me a moment to realize my mistake until I literally got to the end of a dead-end road. Argh! I felt my frustration starting to grow. Instead of being 30 minutes early I was going to be late. I checked the address again, realized where I made my mistake, and set off in the right direction. Trying not to let my anxiety rise to a harmful level I turned on a three-lane road and stopped at a traffic light. I was in the far right lane, an SUV in the center lane, and a sports car in the left lane. I heard yelling and realized it was the SUV driver and the sports car driver having a road rage episode. I couldn't make out much of what they were saying and the words I could understand I don't dare repeat.
I sat there listening and watching the living embodiment of frustration out of control; testosterone, anger, and vitriol spewing out of both of them. It made me take stock of my mood and I realized it wasn't worth getting upset over my mistake and to let it go. I did, arrived at the training on time and am thankful for the lesson two men out of control could teach me.
blessings,
@BrianLoging (Twitter)
thewannabesaint.com
Nuance
Everyone should have a friend who dances to their own music, marches to the beat of their own drummer. These special ones seem to walk a path that others cannot see and probably wouldn't have the courage to navigate a path so culturally unconceived.
We seemingly live in a world where there are only two sides. These sides are chosen by litmus tests and depending on what you believe, where you stand on the issues, a label is slapped on you and you assume the responsibility and culpability of all others labeled and standing along side you. There is no nuance, no subtleties and we all suffer from it. Vitriol, disdain and hostility are hurled at those on the other side and our cultures are divided seemingly to never be brought together again.
I wonder if there are enough people who would dare to not accept this paradigm, view of life, of others. Are there enough folks who would put aside the expectations and be the exceptions to what our world demands? How many would choose to belong to the community of nuance, walk the road less traveled and dance to the music of the middle?
blessings,
@BrianLoging
thewannabesaint.com