Blog Archives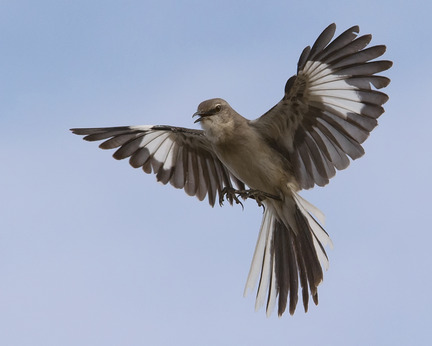 Important –
There is a family of Mockingbirds (https://www.google.com/search?q=mockingbird&oq=mockin&aqs=chrome.0.69i59j69i57j0l4.2524j0j7&sourceid=chrome&ie=UTF-8) in one of the large trees covering our driveway. The parents are extremely protective of their little ones.
Late this afternoon, after spending most of the day working on a project, I set fire to a pile of debris that contained several downed limbs from the past month's storms. I plopped down in a lawn chair watched the fire and then something interesting caught my eye. One of the Mockingbird parents was chasing a Turkey Vulture (https://www.google.com/search?q=mockingbird&oq=mockin&aqs=chrome.0.69i59j69i57j0l4.2524j0j7&sourceid=chrome&ie=UTF-8#q=turkey+vulture) who had come to close to its nest. It was dive bombing the much larger bird chasing it, harassing it, letting it know that it was a mistake to be in this area. There was something important and it was to be protected at all costs.
As I watched the Mockingbird triumphantly run the unwanted fiend off I thought about our lives. There are many things we claim as important, would declare meant a lot to us, but what would we risk our lives for? Die for? Fight against greater odds to protect and preserve?
The answer to this question reveals a good deal about us. Knowing what we're willing to never give up defending gives us insight into who we are and what means most to us.
blessings,
@BrianLoging (Twitter)
thewannabesaint.com
This morning I was in a hurry! I don't like being late. I'd rather be one hour early than one minute late to an appointment. I grabbed my keys, wallet, pen, wedding ring and phone as I rushed out the door. Shoving varying items in available pockets I opened the door to the truck and tossed my wallet onto the passenger seat with the intention of placing it in my back pocket when I arrived at my destination. However, when I pulled into a parking space my mind was elsewhere and I left my wallet in a prominent, highly visible spot on the front seat. I never even thought about it until I finished my meeting, came back out to the truck, opened the door and spied it lying there waiting to be seen by anyone and possibly stolen. "Whew!"
In life we often leave what's important behind as we rush to and fro. There are schedules to keep, people to meet, places to go and it seems our life is lived in fast forward. It takes discipline and awareness to make sure what's important doesn't get left behind but is remembered and treasured.
"For what will it profit a man if he gains the whole world and forfeits his soul? Or what shall a man give in return for his soul?" -the Master
blessings,
@BrianLoging (Twitter)
http://www.thewannabesaint.com