Blog Archives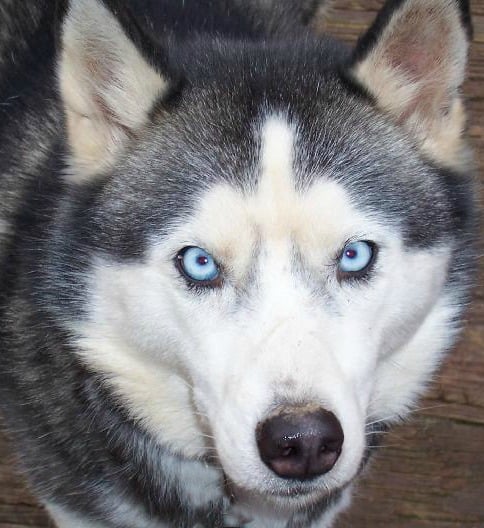 Are You There?
A couple of hours ago a storm blew into our area with winds and thunder but no rain, at least for us. I was on the couch with my earbuds in. This is why I didn't hear the storm or our Siberian Husky, Trooper, come into the living room and sit down right next to me and stare. Suddenly I had a feeling of being watched and I looked in his direction to find his face a few inches from mine. It startled me! "What are you doing?" When I heard the thunder I realized he was looking for comfort. I patted him on the head, scratched ears and told him it was; "okay." I guess he heard and understood because he went back to his favorite spot on the foyer floor and laid down. He's still asleep now.
In times of uncertainty, calamity, unsettledness, and fear, what we want, need to know if someone is there for us. As adult humans, we understand that a person's presence might not fix or solve the problem but it does remind us we are not abandoned. It is one of the deepest longings at the heart of existence; the assurance that on this journey call life, we don't walk alone.
blessings,
@BrianLoging (Twitter)
thewannabesaint.com
On Demand –
This afternoon I had a follow-up appointment at the doctor's office. They needed to do a routine check-up and wanted a deposit. I had figured as much so I made sure not to leave my deposit at home before I left. I went to the restroom, readied the bottle and…nothing. No matter how much I concentrated there just wasn't anything that was going to happen. After several minutes I meekly came out of the lavatory and explained the situation to the nurse. She then sent me to the staff vampire who had no such trouble sticking me with a big needle and taking my second deposit by force. I now have a cotton ball and medical tape covering a hole in my arm.
We live in an; "On Demand" world. We get and expect things instantaneously. The problem is sometimes life doesn't work that way. We may demand expediency but delay and obstruction is what we're given. If we decide to take what we need to wait on by force pain is often the what we receive instead of what we desire.
It does us good to wait, to not get what we want, to be told; "No!" It reminds us we aren't all-powerful, possess full control, aren't as able as we'd like to believe. Wisdom, and the lessons it uses in everyday life remind us who we are, who we aren't and how to be at peace with both.
blessings,
@BrianLoging (Twitter)
thewannabesaint.com