Blog Archives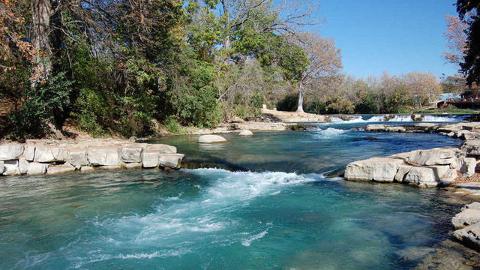 The River –
"Imagine yourself sitting on the bank of a river. The river is your stream of consciousness. Observe each of your thoughts coming along as if they're saying, "Think me, think me." Watch your feelings come by saying, "Feel me, feel me." Acknowledge that you're having the feeling or thought. Don't hate it, judge it, critique it, or move against it. Simply name it: "resentment toward so and so," "a thought about such and such." Then place it on a boat and let it go down the river. When another thought arises—as no doubt it will—welcome it and let it go, returning to your inner watch place on the bank of the river."
#ThomasKeating, "Open Mind, Open Heart: The Contemplative Dimension of the Gospel"
One of the greatest and most difficult realizations is the truth that we are not our thoughts. We are not our actions. We are not our egos. True, each of these can reveal things about us and to the world but we are not these things.
The problem is we've been taught the opposite most of our lives. The famous quote; "Reap a thought, a word, an action, then a destiny," seems right but our thoughts do not have to lead us to who we ultimately become. We can choose to go deeper, change paths, refuse to be captive to our thoughts by breaking free of them.
blessings,
@BrianLoging (Twitter)
thewannabesaint.com
On my way to the office today I stopped at a drive-thru and ordered a drink to take with me to a meeting. There was a long line and I didn't have too much time to spare. The woman in the car in front of me ordered and then pulled up, but not enough for me to be able to move into position and place my order. After a few moments, waiting, I said out loud, seemingly to myself, "Let's go lady!" I had already rolled down my window and then noticed she had hers down also. "Oops," I thought to myself, "I hope she didn't hear me." I watched to see if there was any reaction from the woman and didn't discern any. I breathed a sigh of relief and didn't mutter another word.
"No one regrets a harsh word unspoken." -Wisdom Proverb
It was a good reminder to me that words, once uttered, can never be taken back. Whatever the circumstances, or intentions, our words have the power of life and death. We should always be mindful to use them wisely.
blessings,
@BrianLoging (Twitter)
thewannabesaint.com
One of the most important teachings of wisdom is the "space between." It is the distance between what happens to us and our reaction to it. The greater the space; usually the wiser choice and better consequence. The shorter the response time; the more chance of the decision/action being poor.
Wisdom teaches us that a word unsaid is usually not regretted.  This also extends to actions. Once something is said or done there is no reverse and we must accept the consequence, good or bad. "When a person picks up one end of the stick, they always pick up the other." Wisdom also teaches us the concept of eternity existing in every moment. It is a harder lesson to learn and grasp but powerful in its impact upon how we think about life and relationships.
Take the time, exist in the moment, breathe, be still, reflect and then decide. The difference in a quick reaction and a wise one can be the difference between life and death.
blessings,
@BrianLoging (Twitter)
thewannabesaint.com